The worst day of my life.
Leaphia Darko recalls how the Globe had the magical effect of turning around her day and her life.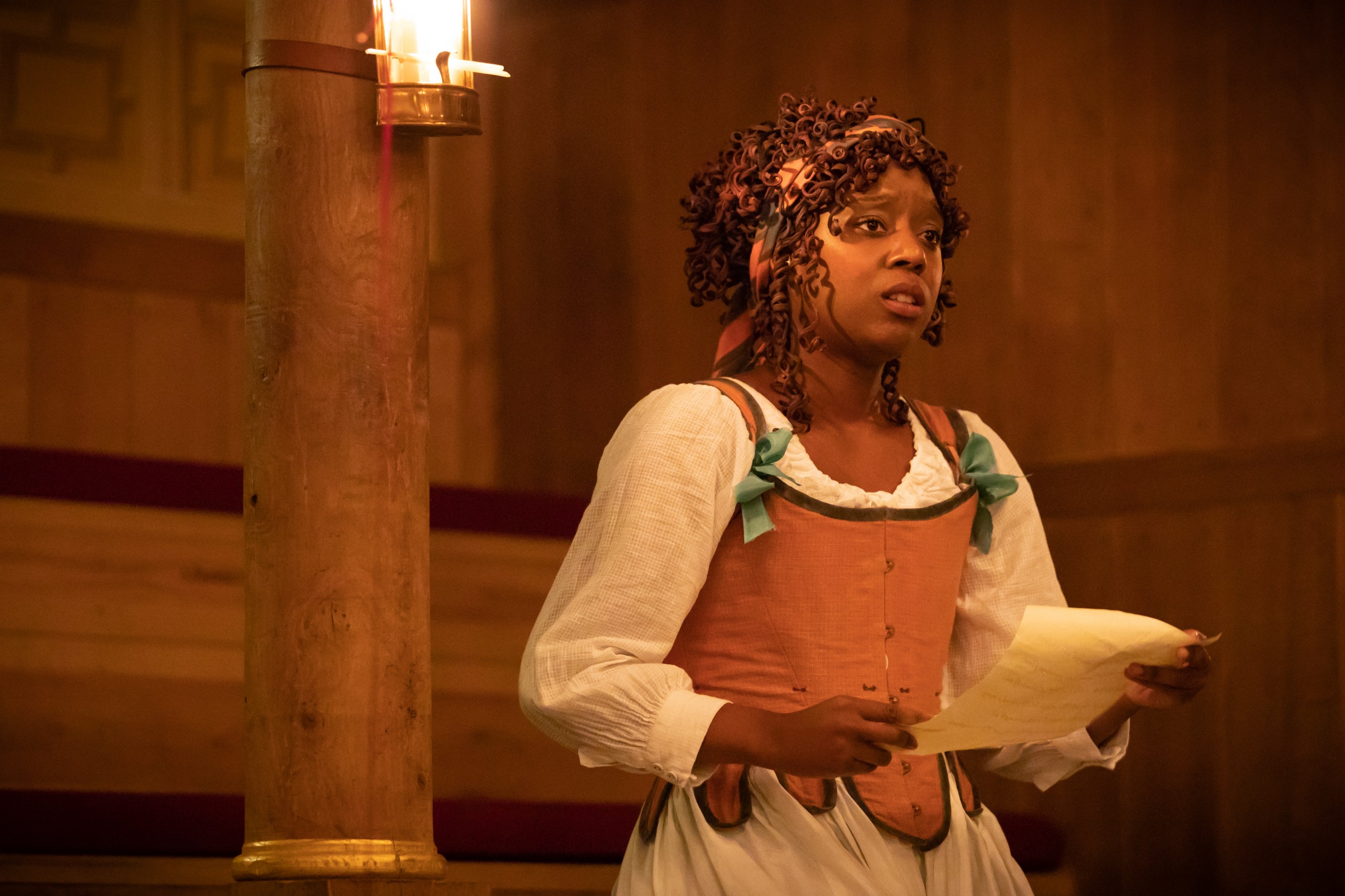 I don't really know much about how I came to stumble across Shakespeare's Globe. The little I do know is that it was almost completely by accident. In hindsight, it was a happy one but I couldn't have said that at the time. For one simple reason — my trip to the Globe was my first ever trip to the theatre.
To start at the very beginning…
I had just moved to a new school at the same time as a borough-wide initiative to encourage those doing As Level English was set in place. Several schools in the area had to send two representatives to a place called Rose Bruford — a drama school, which coming from the Woolwich area I had spent my entire life growing up next door to without even knowing it. I had been told it was a very academic day full of how to hit different assessment objectives and that sort of necessary evil.
I found out very quickly that these were lies. ALL LIES. To my horror, the day turned out to be all about the theatre. I would rather have stapled my eyelids to a wall than go. I started to long for the musty academic drivel I had been promised. I wasn't posh. Theatre was only for posh people. I was so distraught I even considered bunking which I'd never done before. But I thought 'I've gotten to 6th form without skipping school why start now.' Which was literally the only reason I dragged myself along.
And boy did I regret it. I had to sit through a workshop about how to use maths to light a set, a library tour of books about periods and thought leaders across theatre history (none of whom I'd heard of) and last but not least a practical sonnet workshop where we had to sight read whilst other humans — complete strangers by the way — did incredibly odd things like pretend to be people they weren't whilst making and maintaining eye contact. I could have categorically told you hand on heart that it was the worse day of my life. 'I don't do drama. I was told this was an English literature day' I must have said 50 times to 50 people whilst all sorts of words whirled over my head.
Then things got even worse. I was reminded part way through the day that we would in fact not be able to go home at 3 o'clock because a coach was going to pick us up to take us to see, duh-duh-duh: a piece of theatre. Great. Now I was gonna be bored senseless and miss The Simpsons.
I sulked all the way there. Just stared out the coach window not wanting to talk to anybody. A boy on the coach was going on and on about how great drama was, the youth theatre he was involved in and how he wanted to go to a place called RADA to study acting. An actual acting degree? Those don't exist. It was just about the most stupid thing I'd ever heard. The smash-in –case-of-emergency hammer started to look increasingly more appealing.
We got to the Globe, parked on a side street a few minutes' walk away and filed inside. The play was Anthony and Cleopatra. How pointless I thought, I'm going to be bored senseless for the next 3 hours by a play which isn't even on the syllabus. We were lucky enough to have seats on the ground level gallery stage right. I was surprised to see barely any velvet in sight — cushions sold separately — a large hole in the ceiling and people standing up. I didn't know that was allowed in a theatre. I was in my 6th form uniform. Most people were wearing jeans and t-shirts. I didn't know that was allowed either.
I have to say I don't remember it starting. I only remember time moving faster or slower than it usually does. I couldn't say which. It didn't occur to me that I didn't understand it because for some reason, to my surprise I did. Or that I was probably the first person in my family to visit a theatre. Or that the venue was a funny shape — although it was — because Frances Barber in the title role was mesmeric. You could feel the audience on her side. Silently willing her back on stage at every exit. She had us in the palm of her hand. At the end the applause was deafening.
And then all of a sudden that was it. It simply disappeared as if it had never happened. If you had told me the show had lasted 20 hours or that it had lasted 20 minutes I'd have believed you.
Everyone started piling back to the coach, down some steps and out through the auditorium. I followed them feeling dazed and like I was jet-lagged, having just landed from Ancient Egypt, but as I passed the stage I came to a stop entranced. At the height of my chin were several planks of thick wood stretching several metres and several majestic-looking columns supporting an ornately painted roof, none of which looked very Egyptian at all.
But where was the sand I had thought that I saw? The ornate barge which maybe I had seen or maybe I hadn't? I stood for a while trying to work out what had been there and what hadn't. I suddenly felt quite cross.
'How dare they force me to see a play and trick me like that,' I thought. Then I felt embarrassed, 'I can't believe I fell for it they're just wooden planks!'
I reached out a hand to touch the stage. 'Yup, wooden planks.'
I was in awe.
'Come on,' someone called, 'You'll miss the coach.'
'But it's just wooden planks,' I said out loud.
'I know,' was the response.
'But 10 minutes ago I thought they were Ancient Egypt. How did she do that? She looked like she was having so much fun.' And then I paused for thought a bit frightened by what I was about to suggest; 'I don't know if I'll ever be as good as her [Frances Barber] but if it's that much fun, maybe I'll have a go at doing it myself…just for fun though. Not in a serious way or anything.'
The coach was waiting. I was suddenly really sorry to have to go. It crossed my mind that there must be another way home, that I might not need to get on it so I could stay a little longer, staring wide-eyed about the empty space. Theatre, it suddenly occurred to me, was magic. And magic to me made sense.
I got back onboard and sat by the boy who had been going on about theatre earlier.
'So tell me more about this youth theatre thing. Not that I'm going to join. Because that would be stupid. But tell me though. Not that I'm going to join or anything. But like, if I did want to how would I get into it?'
To cut a very long story short, I find myself now 14 months out of RADA on the other side of things playing Katherine in Love's Labour's Lost in the Sam Wannamaker Playhouse here at the Globe, right back where it all started.
Early this morning I sat in the same seat I sat in all those years ago. I had a very strange feeling. Same space, same smell of magic in the air even when empty. Different me though. A me that without theatre, I could never have dreamed I had the potential to be. I guess it's kind of funny, isn't it? How the worst day of your life can become the very best in an instant. ♦️
Leaphia Darko is a member of the Globe Ensemble.
Echoing the approach that Shakespeare's company would have taken over 400 years ago the Globe Ensemble will work together in 2019 to explore our working and performance practices. Meet the full ensemble.